NB: The description of the rewards is below.

NB: Une version française est disponible à la fin du texte en anglais/A french version of this campaign is available at the end of the english text.
Baba Dioum once said : "In the end we will conserve only what we love, we will love only what we understand, and we will understand only what we are taught", those wise words inspired the creation of CuriOcean, a project aiming to raise awareness on marine conservation topics.
(Picture 1) - Credit: Verena Barbosa Foltran
NB: All pictures had the parent's/school's authorization to be posted. 
Curiosity, Comprehension and Conservation: three very important ideas to help protect our oceans, and who better to carry on the flame of hope? Future generations!
My name is Luana Jungmann, I am a marine biologist with a background in teaching who travelled the world to discover its wonders and fell in love with our marine environment.
(Picture 2) - Credit: Sabrina Chesi
After several experiences and encounters I realised how important it is to help raising awareness about the ocean in a fun and interesting way.
Many threats lie upon the ocean shoulders, from plastic to noise pollution, from overfishing to invasive species, while the balance of our planet depends on healthy seas.
Based on my past and current experiences and research I decided to build an NGO able to bring a sense of wonder and excitement about the ocean to junior and high school students in the hope that they will feel inspired to become leaders for marine conservation efforts. 
CuriOcean workshops cover a wide range of topics from marine mammals conservation to marine litter and biodiversity and are based in local and international research. 
A the end of each workshop the students receive a certificate attesting the level and skills learned during the activities. They also create a take home message, which can be a drawing, a poster, a comic strip, anything the kids feel more comfortable with to show what they have learned. 
Up to now CuriOcean reached more than 15 schools, 20 classes and 600 kids between 7 and 12 years old and it is just the beginning! We also do beach cleanings during which we collected more than 300kg of waste in only 5 sessions of 40minutes each !
There are three different workshops available: (each one has a basic and an advanced level)
- The workshop on marine mammals gives an overview on local marine mammals, their importance, threats and current research. It's a great opportunity to gain an insight into a marine mammals researcher's typical day. The participants are guided through an introduction on marine mammals, acoustics, photo-identification and stranding response, presented with a sense of fun and curiosity.
- The workshop on marine litter focuses on the different types of marine litter, how they end up in the ocean and the small day-to-day actions that can help reducing waste. The activities are adapted to different age groups and are done in a playful way. 
- The biodiversity workshop gives an overview of how diverse marine life can be and how it is fundamentally linked to a healthy ecosystem. Participants will discover many fascinating and funny species, and gain an understanding of just how important ocean diversity is to the planet as a whole.

CuriOcean is currently based in Ireland but the long term goal will be to travel around the World, starting in Europe and spread the conservation efforts, empowering kids and teachers to be agents for a better future. We are very proud and excited to becoming an NGO and quite impressed with the local community's engagement and all the volunteers that have been helping the project.
Some workshop sessions are also organized for interested grown ups!
(Picture 3) - Credit: Luana Jungmann
(Picture 4) - Credit: Luana Jungmann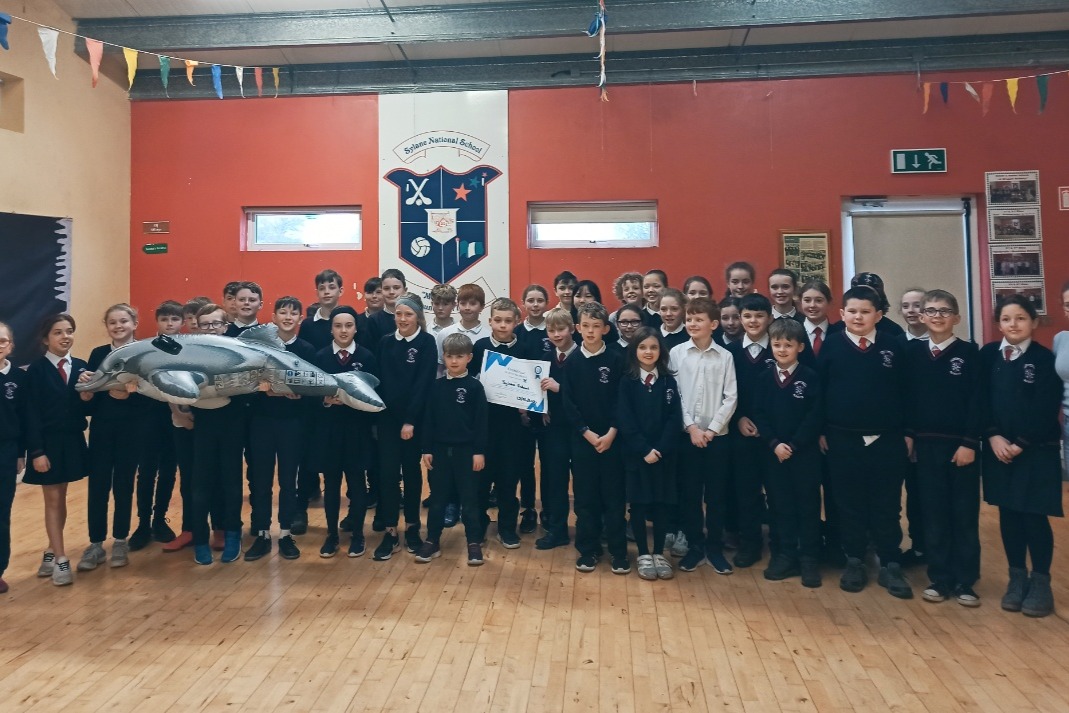 (Picture 5) - Credit: Sylane N.S School
(Picture 6) - Credit: Luana Jungmann
(Picture 7) - Credit: Luana Jungmann, report from one of the kids 
To keep this educational adventure going, your help is greatly needed! A specific material would help the workshops become more authentic and adapted to toddlers and very young ages. It will also help paying for all the media content created (posters, brandbook) and building the advanced workshops to keep on reaching interested kids. 
We are looking to acquire:
- A real size inflatable dolphin to replace the « swimming pool/with handles dolphin/already full of holes» that we have been using on our standing response activity. The real size commun dolphin will be created by Andy Peters, ocean lover and educator who produces real size marine mammals with a 10 years guaranteed material (http://www.whaleworkshop.org/) 
(Picture 8) - Credit : Andy Peter
- Real size 2D fabric marine mammals from the creative and authentic Ursula Tscherter, who is a whale researcher and environmental educator who I have met at the Marine Mammal's conference in Barcelona last year. Those real size Humpback whale, Orca, Shark and Green Turtle will give a real different experience to the kids and adults (https://www.1zu1mittier.ch/1-1-animals/)  Ursula created a specific Orca called Pingu from the Straits of Gilbratar, he has a very unique dorsal fin which will allow to work with the kids on photo-identification. The experience of having a real size marine animal helps kids to connect with the marine environment by looking at the food chain and the size of preys, touching, playing, hiding under those fabric creatures, which also facilitates the work with younger kids. Ursula kindly sent us the Orca so we can ue it during the summer, but we still have to refund her work :)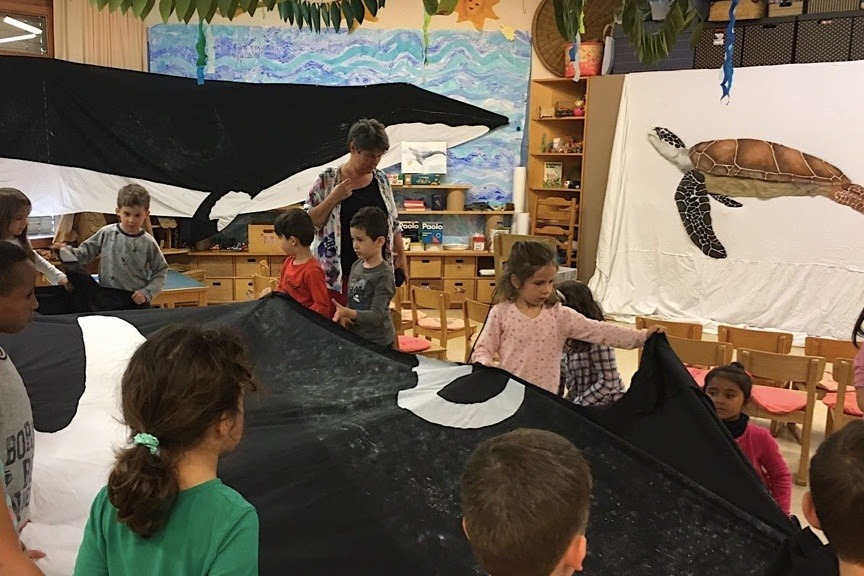 (Picture 9) - Credit : Ursula Tscherter
(Picture 10) - Credit : Ursula Tscherter

(Picture 11) - Credit: Ursula Tscherter
- 6 Cameras to work around the observation of marine mammals in the field. The kids can explore the use of this tool for research.
- A portable videoprojector allowing to project videos and power point presentation in rooms without a videoprojector available. 
- A Portable projector screen.
- A marine mammal poster painted by the amazing french painter and illustrator Chloe Malard.(https://chloemalard.wixsite.com/illustrations)
-  Media brandbook, logos and illustrations created by Verena Barbosa Foltran and Aidan Carmody, a media creation specialist and great drawing artist.
- A workshop creation (biodiversity) by Irish Farrugia Amoyel. She's proactive and professional workshop animator that is helping us create the marine litter workshop which whill be launched in the summer. We will also be creating another biodiversity workshop soon! Iris Linkedin: https://www.linkedin.com/in/farrugiaamoyel/
- Printing of business cards and thank you cards 
- As you must know, in order to go to the schools we will need a NGO's car and insurance. We do not want a fancy car, just one that works! So your help with the funding will be also going towards buying a car when all the material is bought.
Donation prizes (because you deserve it!): 
For €20.00:
- A thank you email with all our appreciation :)
For €50.00:
-Thank you email and two beautiful printable cards made by the amazing Chloé Malard
For €100.00:
-Thank you email and two beautiful printable cards
- Choice between a Turtle poster, an Animation poster with the CuriOcean crew OR a Marine Mammals poster (all also available in balck and white for colouring)
€200.00 or higher :
-Thank you email and two beautiful printable cards
- A poster of your choice and one CuriOcean tote bag in recycled cotton
All donations will be followed by a "Thank you" email and updates with pictures of the kids using the material. Donators will also be added to our mailing list where they will find more information about CuriOcean's moves and news.  
Thank you in advance for your attention and help, any amount you can give will be much appreciated!

Collecte de fonds pour l'achat de matériels visant a améliorer la qualité des ateliers de CuriOcean.
Curiosité, Compréhension et Conservation : Trois idées phares du projet CuriOcean visant la sensibilisation des générations futures à la préservation des océans.
Baba Dioum, écologiste sénégalais:  "En fait, on ne protège que ce qu'on aime, on n'aime que ce qu'on comprend, et on ne comprend que ce qu'on nous explique", ces mots ont inspirés la création des activités du projet, activités pédagogiques et ludiques qui permettent de sensibiliser de façon amusante et motivante. (cf. Photo 1)
Je m'appelle Luana Jungmann, j'ai un Master Européen en Conservation Marine (EMBC+) et un Master des Métiers de l'Enseignement, de l'Education et de la Formation et depuis un très jeune âge je suis passionnée par la mer et ses merveilles. Mes diverses expériences/stages et rencontres m'ont permis de réaliser l'importance de sensibiliser à la préservation marine de manière ludique s´appuyant toujours sur les connaissances scientifiques, afin de maximiser la prise de conscience sur l'urgence d'agir pour sauver nos océans. (cf. Photo 2)
Différentes menaces pèsent sur la mer dont la pollution plastique, la pollution sonore, la surpêche et les espèces invasives, menaces qui perturbent l'équilibre fragile de notre planète.
Me basant sur mes études et mes différentes expériences (par exemple: la réintroduction de coraux aux Seychelles, réhabilitation de lamentins au Brésil, réhabilitation de tortues aux Seychelles et en France, étude des dauphins de l'estuaire de Shannon en Irlande), j'ai créée CuriOcean, une association qui vise à émerveiller et inspirer enfants et adultes à comprendre l'importance de protéger les océans. 
Les ateliers de Curiocean abordent et traitent un large panel de sujets, allant de la protection des mammifères marins à la biodiversité et la pollution marine. Chaque activité est basée sur le programme scolaire et comprends deux niveaux possibles (1: basique et 2: avancé). A la fin de chaque atelier, les enfants reçoivent un certificat attestant des compétences acquises pendant les différentes activités. Ils peuvent également créer un message à divulguer, qui, selon les préférences de chaque enfant, peut être un dessin, une affiche, une bande dessinée, ou autre. Les enfants montrent ainsi ce qu'ils ont appris tout en faisant passer un message.
CuriOcean organise également à l'aide de volontaires et des communautés locales, des nettoyage de plages. Nous avons collecté l'année dernière 4 sessions plus de 300kg de déchets sur les plages de Galway.
À ce jour, Curiocean est intervenu auprès de plus de 15 écoles, 20 classes et 600 enfants entre 7 et 12 ans, et cela ne fait que commencer !
Les ateliers proposés sont les suivants : (des ateliers sont aussi organisés pour les adultes !)
- L'atelier sur les mammifères marins vise à fournir des informations sur ces animaux, à expliquer leur importance, quelles recherches sont actuellement menées sur eux et préciser les menaces qui pèsent sur eux.  C'est une occasion merveilleuse pour découvrir la journée typique d'un chercheur qui étudie les cétacés. L'atelier débute par une introduction interactive sur ces animaux pour ensuite se focaliser sur leur acoustique, la photo-identification (technique de recherche identifiant chaque individu) et les bonnes réactions à avoir en cas d'échouage. 
- L'atelier sur la pollution marine se concentre sur les différents types de déchets, leur parcours avant d'atteindre la mer et donne des idées d'actions individuelles ou collectives à mettre en place au quotidien pour reduire l'utilisation de déchets. Les activités sont adaptées à l'âge des participants et sont encore une fois amenées de façon ludique.
- Enfin, l'atelier sur la biodiversité donne une vision globale sur la diversité de la faune et flore marine et l'importance des liens entre différentes espèces dans un ecosystème donné. Les participants découvrent des espèces fascinantes et amusantes et comprennent l'importance de la biodiversité pour l'équilibre planétaire.
CuriOcean est actuellement basé en Irlande mais sur le long terme, le projet prendra une envergure internationale, adaptant les activités selon les besoins environnementaux et les données recueillies sur place, proporcionnant aux enfants et enseignants les moyens d'être acteurs d'un futur meilleur.
(cf. Photos 4 à 7)
Voici le matériel qui sera acquis grâce à votre participation à cette collecte :
- Un dauphin gonflable en taille réelle, pour remplacer le dauphin gonflable pour piscine qui était utilisé lors des activités portant sur l'échouage. Le modèle de grand dauphin en taille réelle sera créé par Andy Peters, un amoureux de l'océan et éducateur, qui fabrique des mammifères marins en taille réelle avec des matériaux garantis 10 ans (http://www.whaleworkshop.org/). (cf. Photo 8) 
- Mammifères marins en 2D, taille réelle, fabriqués en tissu par la créative Ursula Tscherter. Ursula est une éducatrice environnementale qui fait également des recherches sur les baleines. Je l'ai recontrée l'année dernière à l'IMMC (International Marine Mammal Conference) à Barcelone. Ces modèles de baleine à bosse, orques, requins et tortue verte en taille réelle permettront aux enfants et aux adultes d'aborder les ateliers de façon plus concrète et réaliste (https://www.1zu1mittier.ch/1-1-animals/). Ursula a créée une orque appelée Pingo, que l'on trouve dans le détroit de Gibraltar. Cette orque a une nageoire dorsale très reconnaissable qui permettra aux enfants de réaliser des travaux de photo identification. Le fait de travailler avec un animal en taille réelle permet de mieux se connecter à l'environnement marin, en étudiant la chaîne alimentaire et la taille des proies mais également d'apprendre en jouant et en faisant appel au toucher. Ursula nous a gentillement fait parvenir l'orque afin que l'on puisse l'utiliser pour des activités en été dans l'attente que l'on puisse rémunérer son travail. (cf. Photos 9 à 11)
- Le contenu média créée par la très talenteuse Verena Foltran et son partenaire Aidan Carmody
- Les posters dessinés par la peintre Chloé Malard
- L'impression de cartes d'invitation et de remerciements 
- Le travail de création de l'atelier sur le déchets par Iris Amoyel, éducatrice ennvironnementale
- 6 appareils photos pour explorer avec les enfants les techniques d'observation de cétacés sur le terrain.
- Un vidéoprojecteur portable pour diffuser les présentations power point/vidéos lors d'évènements locaux.
- Un écran portable pour vidéoprojecteur.
- Et parce que nous avns besoin de nous déplacer sur ll'île qu'est l'Irlande pour les ateliers et activités, une voiture pour l'association et le financement de son assurance pour l'année
Et pour vous vous remercier de votre aide et participation à l´amélioration de notre environnement, Curiocean vous offre pour les dons : 
Pour 20.00€: 
- Un email avec nos plus chaleureux remerciements
Pour 50.00€: 
- Un email avec nos plus chaleureux remerciements et deux jolies cartes postales imprimables
Pour 100.00€:
- Un email avec nos plus chaleureux remerciements et deux jolies cartes postales imprimables
-Le choix entre un Poster Tortue, un Poster Animation avec les différents personnages de CuriOcean ou un poster mammifères arins (tous disponibles en couleurs ou noir et blanc pour coloriage)
Pour 200.00€ ou plus :
- Un email avec nos plus chaleureux remerciements et deux jolies cartes postales imprimables
-Le choix entre un Poster Tortue, un Poster Animation avec les différents personnages de CuriOcean ou un poster mammifères arins (tous disponibles en couleurs ou noir et blanc pour coloriage)
- Un sac de course CuriOcean en coton recyclé (bleu ou mauve)
Et bien sûr, des courriels et des photos prises pendant les activités avec le matériel acquis grâce à vos dons, vous permettront de suivre l´avancement du projet et les endroits où sera CuriOcean.

Merci d'avance pour votre contribution et pour votre intérêt pour le projet, n'hésitez pas à envoyer un email à info@curiocean.com pour toute information complémentaire.