(Picture 2) - Credit: Sabrina Chesi
After several experiences and encounters I realised how important it is to help raising awareness about the ocean in a fun and interesting way.
Many threats lie upon the ocean shoulders, from plastic to noise pollution, from overfishing to invasive species, while the balance of our planet depends on healthy seas.
Based on my past and current experiences and research I decided to build an NGO able to bring a sense of wonder and excitement about the ocean to junior and high school students in the hope that they will feel inspired to become leaders for marine conservation efforts. 
What we do:
CuriOcean workshops cover a wide range of topics from marine mammals conservation to marine litter and biodiversity and are based in local and international research. 
Up to now CuriOcean reached more than 15 schools, 20 classes and 600 kids between 7 and 12 years old and it is just the beginning! We also do beach cleanings during which we collected more than 300kg of waste in only 5 sessions of 40minutes each !
There are three different workshops available: (each one has a basic and an advanced level)
A the end of e
ach workshop the students receive a certificate attesting the level and skills learned during the activities. They also create a take home message, which can be a drawing, a poster, a comic strip, anything the kids feel more comfortable with to show what they have learned. 
 CuriOcean is currently based in Ireland but the long term goal will be to travel around the World, starting in Europe and spread the conservation efforts, empowering kids and teachers to be agents for a better future. We are very proud and excited to becoming an NGO and quite impressed with the local community's engagement and all the volunteers that have been helping the project.
Some workshop sessions are also organized for interested grown ups!
(Picture 3) - Credit: Luana Jungmann
(Picture 4) - Credit: Luana Jungmann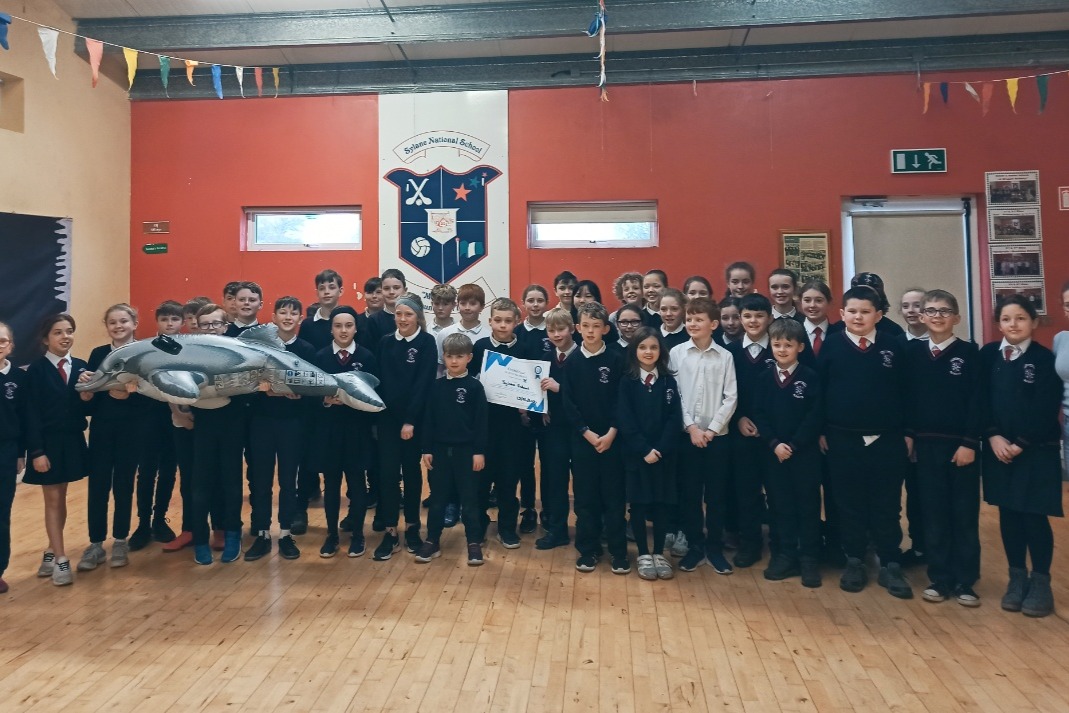 (Picture 5) - Credit: Sylane N.S School
(Picture 6) - Credit: Luana Jungmann
(Picture 7) - Credit: Luana Jungmann, report from one of the kids 
WHAT YOUR DONATION WILL DO FOR US:
To keep this educational adventure going, your help is greatly needed! A specific material would help the workshops become more authentic and adapted to toddlers and very young ages. It will also help paying for all the media content created (posters, brandbook) and building the advanced workshops to keep on reaching interested kids. 
We are looking to acquire:
- A real size inflatable dolphin to replace the « swimming pool/with handles dolphin/already full of holes» that we have been using on our standing response activity. The real size commun dolphin will be created by Andy Peters, ocean lover and educator who produces real size marine mammals with a 10 years guaranteed material (http://www.whaleworkshop.org/) 
(Picture 8) - Credit : Andy Peter
- Real size 2D fabric marine mammals from the creative and authentic Ursula Tscherter, who is a whale researcher and environmental educator who I have met at the Marine Mammal's conference in Barcelona last year. Those real size Humpback whale, Orca, Shark and Green Turtle will give a real different experience to the kids and adults (https://www.1zu1mittier.ch/1-1-animals/)  Ursula created a specific Orca called Pingu from the Straits of Gilbratar, he has a very unique dorsal fin which will allow to work with the kids on photo-identification. The experience of having a real size marine animal helps kids to connect with the marine environment by looking at the food chain and the size of preys, touching, playing, hiding under those fabric creatures, which also facilitates the work with younger kids. Ursula kindly sent us the Orca so we can ue it during the summer, but we still have to refund her work :)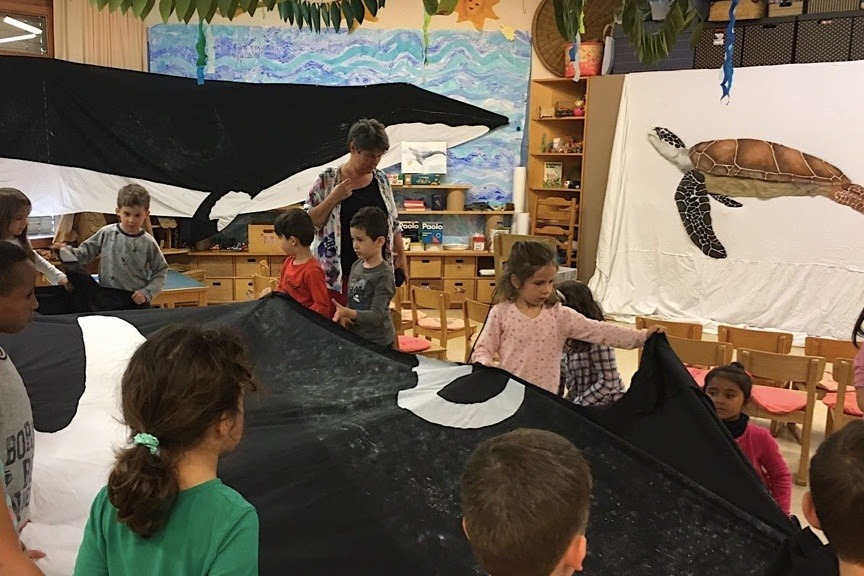 (Picture 9) - Credit : Ursula Tscherter
(Picture 10) - Credit : Ursula Tscherter

(Picture 11) - Credit: Ursula Tscherter
- 6 Cameras to work around the observation of marine mammals in the field. The kids can explore the use of this tool for research.
- A portable videoprojector allowing to project videos and power point presentation in rooms without a videoprojector available. 
- A Portable projector screen.
- A marine mammal poster painted by the amazing french painter and illustrator Chloe Malard.(https://chloemalard.wixsite.com/illustrations)
-  Media brandbook, logos and illustrations created by Verena Barbosa Foltran and Aidan Carmody, a media creation specialist and great drawing artist.
- A workshop creation (biodiversity) by Irish Farrugia Amoyel. She's proactive and professional workshop animator that is helping us create the marine litter workshop which whill be launched in the summer. We will also be creating another biodiversity workshop soon! Iris Linkedin: https://www.linkedin.com/in/farrugiaamoyel/
- Printing of business cards and thank you cards 
- As you must know, in order to go to the schools we will need a NGO's car and insurance. We do not want a fancy car, just one that works! So your help with the funding will be also going towards buying a car when all the material is bought.
Donation prizes (because you deserve it!): 
For €20.00:
- A thank you email with all our appreciation :)
For €50.00:
-Thank you email and two beautiful printable cards made by the amazing Chloé Malard
For €100.00:
-Thank you email and two beautiful printable cards
- Choice between a Turtle poster, an Animation poster with the CuriOcean crew OR a Marine Mammals poster (all also available in balck and white for colouring)
€200.00 or higher :
-Thank you email and two beautiful printable cards
- A poster of your choice and one CuriOcean tote bag in recycled cotton
All donations will be followed by a "Thank you" email and updates with pictures of the kids using the material. Donators will also be added to our mailing list where they will find more information about CuriOcean's moves and news.  
Thank you in advance for your attention and help, any amount you can give will be much appreciated!